11 Sep 2023
Leading environmental firm i-ES launches ground-breaking new virtual surveying service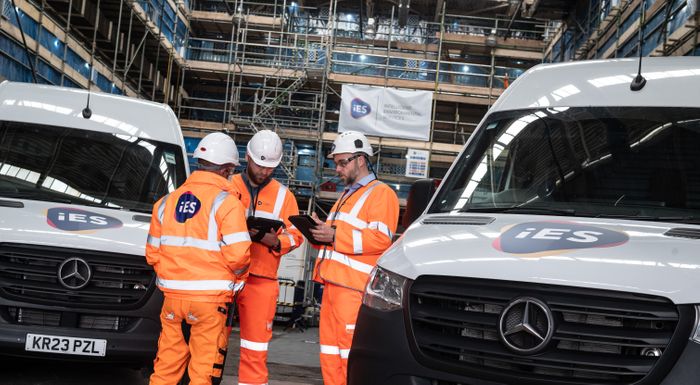 Specialist enabling works supplier Intelligent Environment Services (iES) has launched an innovative new virtual rendering service for asbestos surveying aimed at reducing the risk of exposure. i-ES, based in Manchester, is now delivering 'Virtual Rendering' surveys to clients, providing them with a truly unique solution to communicating complex asbestos risk.
Through pioneering 3D technology, iES are able to transport users into an interactive, real-world walkthrough of buildings and environments. This provides clients with an exact replica of their property with critical compliance data already embedded within the 3D render, providing a true to life view of all asbestos containing materials in relation to their exact locations across the site.
iES is also the first organisation globally which has the ability to create virtual tours within contaminated areas, providing clients with a complete picture of mechanical and electrical equipment and its condition present within areas previously deemed inaccessible.
Brent Wardle, Director at iES said: "We are delighted to launch this exciting new service, which is set to completely revolutionise the way asbestos surveys are carried out.
"The key benefit of the virtual survey is the added safety it provides for contractors who can virtually walk through a property and be able to easily and immediately identify where the asbestos is located, completely removing any ambiguity and thus any risk of accidental disturbance. Not only that, but if there is an asbestos incident, our technology completely removes the need for people to physically attend site, risking further exposure in order to determine risk and appropriate remedial actions."
In addition to aiding a safer, more efficient approach to asbestos management, iES Virtual Tour technology has the capability to embed multiple layers of tagging, which can help with identifying health and safety risks and help clients to tag and retain a virtual replica and profile of all assets.
Brent added: "We have already successfully delivered virtual asbestos surveys and virtual renders with both new and existing clients who have described it as game changing and a watershed moment for the asbestos industry. We are extremely excited about the possibilities new technology can bring to our industry and we are proud to be the company leading the way with its integration."
iES will be showcasing the Virtual Rendering service this week at Contamination & Land Remediation Expo on 13-14 September at the NEC Birmingham.
For more information, visit i-es.uk.