29 Aug 2023
Kelly Tanks are pleased to be exhibiting again at the 2023 Environmental Services & Solutions Expo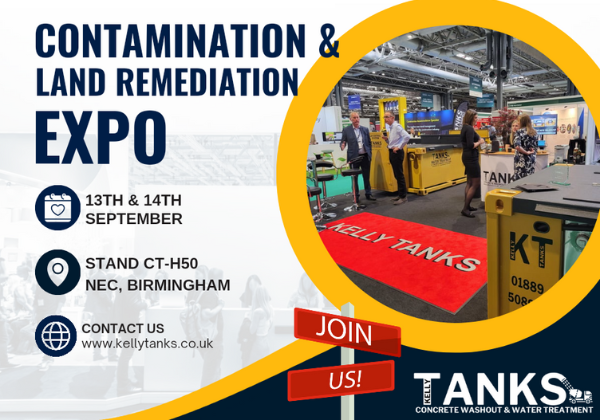 Increasing environmental responsibilities and sustainability targets are driving the construction industries ongoing needs for cost effective, easy to use solutions for dealing with wastewater onsite. Sites need quick replies, concise information, simple transactions, and deliveries without hassle. For the past 11 years Kelly Tanks has enjoyed providing all of these whilst building a large customer base, expanding their team and facilities, and responding to customer demand with innovative new products year on year.
Mark, Kelly and team KT provide a selection of Water Treatment and Concrete Washout Solutions for hire or purchase. Their popularity and proven track record is a result of providing the kit you need, in the manner you want, at a price you're happy with. Match this with their eager to please attitudes and above and beyond aftercare and it's easy to see why their customers keep returning.
CONCRETE WASHOUT
Various concrete washout solutions, to allow concrete trucks and equipment to be washed off safely onsite, including closed loop wash water recycling, wash water filtration sacks, pH correction, robust washout trays and skip washouts.
WATER TREATMENT
Self-contained units or full systems to separate and treat wastewater and Water Quality Monitoring Systems including Settlement & lamella Tanks, flocculation, and pH adjustment dosing, pH/TSS/Turbidity/Salinity remote monitoring, auto de-sludging.
HYDRODEMOLITION
Water Treatment Solutions for high alkaline hydro demolition waste, used to retain solids and automatically correct pH.
BESPOKE SYSTEMS
Tailor made solutions to suit all applications. Whether an idea or a full plan, we can accommodate. We can also tweak our existing products and/or have them sprayed in your corporate colours.
WATER MANAGEMENT
Complete onsite Water Management. Consultancy, Testing, Supply, Install and Maintenance.
KEY BENEFITS YOU CAN EXPECT FROM KELLY TANKS EQUIPMENT:
Designed to meet the rigours of the construction industry
Fast and simple to set up
Small footprint equipment available
Units can be linked to handle range of flows, pumps sizes & particle characteristics
Easy to maintain and monitor equipment
Reduce off-site disposal costs
Reduce risk of pollution
Easy to use equipment
Kelly Tanks take pride in the quality of their products and to customer service making them a real pleasure to deal with. For further info give them a call on 01889 508944, email info@kellytanks.co.uk or check out their website their website here.
Visit Kelly Tanks at stand CT-H50 at Contamination & Land Remediation Expo and find out more here.