08 Jun 2023
First Look at the Headline Speakers for ESS Expo 2023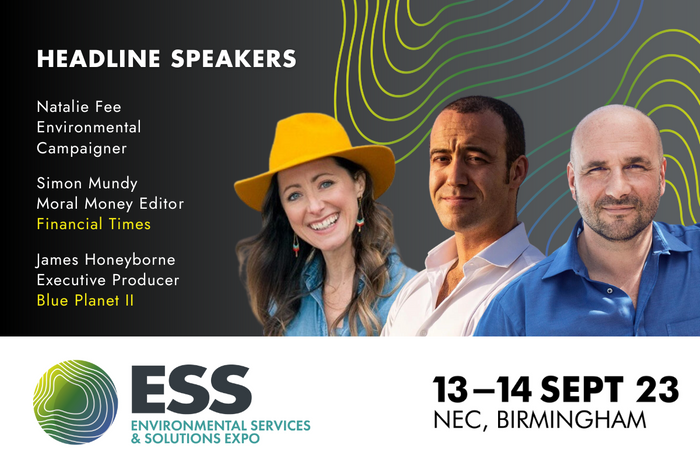 We are thrilled to announce the headline speaker line-up for ESS Expo 2023, UK's largest environmental event. Taking place 13-14 September 2023, at NEC Birmingham, this event is a must-attend for anyone passionate about sustainable environmental management and driving positive change.
Keynote Speakers:
A stellar line-up of keynote speakers will share their insights, knowledge, and vision for the future, making the ESS Expo 2023 an unparalleled platform for learning and inspiration. Here are some of our headline speakers:
James Honeyborne - Executive Producer, Blue Planet II: With his deep understanding of the world's oceans and their delicate ecosystems, James Honeyborne will shed light on the critical role we play in preserving our planet's resources.

Simon Mundy - Moral Money Editor, Financial Times: Simon will delve into the intersection of finance and environmental sustainability, providing valuable perspectives on the economic aspects of waste management and resource conservation.

Tristram Stuart - Award-Winning Environmental Campaigner: Tristram's ground-breaking work in reducing food waste and promoting sustainable practices has garnered international acclaim. His session will highlight the importance of circular economy practices and innovative solutions in tackling the global waste crisis.
Engaging and Informative Program:
In addition to the inspiring keynote sessions, ESS Expo 2023 offers a comprehensive program featuring over 300 industry thought-leaders. You can expect a wide range of seminars, meetings, discussions, workshops, and talks that cover the latest advancements, best practices, emerging trends, challenges, successes, and strategies for the future.

Networking and Collaboration:
ESS Expo 2023 is not just about learning; it's also an unparalleled opportunity to network with industry professionals, build connections, and foster collaborations. With over 600 world-class suppliers and exclusive networking events designed to bring the industry together, you'll have countless chances to connect with like-minded individuals who are passionate about making a positive impact on the environment.

Additional Highlights:
Apart from the captivating speaker sessions and networking opportunities, ESS Expo 2023 has even more in store for attendees. Here are just some of the other key highlights:
Fleet Managers' Forum: An exclusive forum dedicated to addressing the unique challenges and opportunities faced by fleet managers in the waste and environmental services industry.

Women in Sustainability Breakfast Meeting: A special gathering aimed at celebrating and highlighting women professionals working in sustainability-related roles.

Zero Waste Recognition Scheme: An initiative that recognises and applauds organisations and individuals who have made remarkable progress in achieving zero waste goals.

35 Under 35 Awards: A prestigious accolade honouring the rising stars and future trailblazers in the waste and resource management industry.

Various Networking Events: Across the two days there will be various networking events across all four ESS Expo events, including the Restoration and Insurance networking event in FWM Expo.
Register Now for Free:
Don't miss out on the unparalleled opportunity to connect with industry leaders, discover innovative technologies, and leave with ground-breaking ideas.

Stay updated on the latest announcements, program releases, and speaker updates by registering for your free ticket now. Join us at ESS Expo 2023 to be part of the conversation and drive meaningful change in the recycling, flood management, water treatment, land remediation, energy and wider environmental services industry.

One FREE ticket gains you access to all four ESS events:  RWM (Resource & Waste Management Expo), EFD (Energy, Fuels & Decarbonisation Expo), FWM (Flood & Water Management Expo) and CLR (Contamination & Land Remediation Expo).

Secure your free ticket here